The Show Stopper of the South India – Ooty Flower Show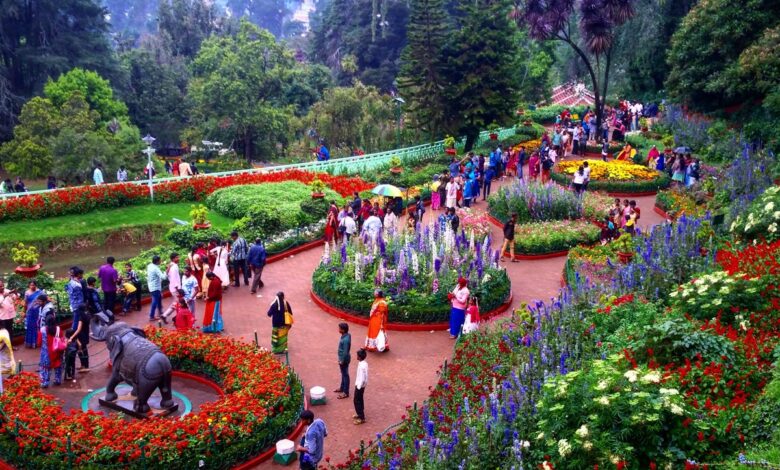 Flowers are part of human life. They have its place right from birth through marriage and death among almost all the communities, religious and region in the world. They are not only eye catching and fragrant, they are mind relaxing, rejuvenating and refreshing. Flower shows are the beast and festival to the nature lovers and gardening enthusiasts around the world. They neither forget to mark it in their calendar nor mind travelling to any extent to experience it
Why Flower Shows?
Flower shows are conducted with certain purpose:
They inspire, educate and motivate the gardeners and gardening habits
They display garden designs, floriculture pride and skills of a region
They introduce new plan or flower across boundaries
They also preserve the traditional varieties of a specific region
They introduce evolving methods used in Horticulture sector
They exhibit the modern way of indoor garden
They demonstrate the way to use smaller outdoor space effectively for gardening
Top 10 Flower Shows in the World
There are many flower shows across the globe like Philadelphia International Flower Show in United States since 1829, Boston Flower and Garden Show since 1830, The Portland Rose Festival since 1907, Chelsea Flower Show since 1913, San Francisco Flower & Garden Show since 1986, The Hong Kong Flower Expo since 1987, Ellerslie International Flower Show in New Zealand since 1994, Melbourne International Flower and Garden Show in Australia since 1995, Canada Blooms in Toronto since 1996 and Garden Festival in Singapore since 2006 which attracts tourists across continents and boosts its tourism related economy.
Top 10 Flower Shows in India
In India Annual Flower Show in Ooty, Lalbagh Flower Show in Bangalore, Chrysanthemums Show in Chandigarh, Tulip Festival in Srinagar, International Flower Festival in Gangtok, Rose Flower Show in Pune, Horticultural Show in Kolkata, Flower show in Meghalaya, Kas Platte Floral Show in Maharashtra, and Delhi university floor show are popular. Out of which 'The Annual Flower Show' in Ooty is one of the famous and historic.
What colour fence paint makes garden look bigger?
Why Ooty Floor Show is Unique
The flower show in the back ground of lush green hills and misty weather with display of hundreds of flower variety, it is really unique experience from the rest of floor shown in India.
Ooty flower show was started in 1896 and being conducted every year – Only 2 times in the history it was called off – First time due to a tea industry crisis related public strike two decades ago and Second time in 2021 due to Covid 19 restrictions but a virtual tour through YouTube was organized.
Conducted in 'The Ooty Botanical Garden' which is unique among rest of India botanical gardens in India with 6 sections and 20 million year old fossil trunk
Orchids, Dahlias, Tulips, Calla Lilies, Geraniums, Carnations, Gerberas, Salvias, Liliums, Alstroemeria, Asters Antirrhinum, Marigolds, Ranunculus, Dianthus, Petunias, Sapanarias, Begonia Balsam, Hyacinths, Liatris, etc are part of display
Displayed more than 100 countries national flowers at a place
Single floral structure made using 1.2 Lac flowers
Seeds are imported from Europe, Japan, Canada to enhance the variety of display
Grasps global trend and display it in India
Some of the flowers stay fresh even more than 40 days due to the climate in Ooty
Attracts about 3 Lac foot prints in just 3 day floral festival conducted on the month of May
Referred as 'The Show Stopper of the South India'
It is the only hill station or location in India conducts 2 separate floriculture shows – 'Flower Show' in the Government Botanical Garden and 'Rose Show' in the Government Rose Garden which are couple of diamonds in the crown of the 'Queen of Hills Stations' undoubtedly.
Impact of Ooty Floor Show
During the Ooty flower show in the botanical garden, it looks like a paradise on the earth which unleashes the florist inside each and every visitor. On the other hand the intermittent rain, heavenly climate and scenic beauty of Ooty mesmerizes many of the flower show visitors to buy property in Ooty and they predominantly search villa for sale in Ooty with ample outdoor space to have their dream lawn and garden. Because they knew that the climate in their native towns in plains will not support to have such a delightful garden with variety of flowers which they have seen in the flower show. This factor has a considerable influence in Ooty real estate on a positive way. It might not be the case in all other flower show locations in India.